Range of grates and access covers for pedestrian safety
ACO Heelsafe® Anti-Slip
Create a distinct look with custom designed grates
ACO Heelsafe® Anti-Slip
Discreet access covers complement landscaped areas
ACO Heelsafe® Anti-Slip
External building drainage
ACO Heelsafe® Anti-Slip
Discreet access covers and grates for floor tile continuity
ACO Heelsafe® Anti-Slip
ACO's Heelsafe® Anti-Slip grates and covers
Drains and service enclosures are a vital part of any urban or building project. A lack of planning can have a marked effect on the project's lifecycle and negatively impact the overall design.
At ACO, we have embarked on a research and development mission to empower the way designers select and specify these pavement elements. A number of factors need to be considered when integrating these elements into urban pavements and building floor areas to maintain aesthetics and keep users safe.
For a durable and long-lasting pavement, effective stormwater management is key. For drainage, we see that grates being both heel friendly and slip resistant are vital components of the selection criteria to keep users safe.
Service enclosures house essential elements giving access to key underground cables, pipes and other utilities. They need to be accessible, trafficable and preserve the visual continuity of the pavement or floor.
With our industry leading range of Heelsafe® Anti-Slip grates and discreet access covers, we have a vast range of products suitable for any project:
Design principles for Heelsafe® Anti-Slip applications:
ACO's Heelsafe® Anti-Slip grates and access covers comply with a number of Australian and International Standards for pedestrian, wheelchair, bicycle and cane use. Products are available in a range of slip resistance ratings and with a maximum slot width of 10mm to prevent small heels from becoming trapped. ACO has identified five key principals designers should consider when specifying and designing:
Pavements should be as flat as possible, with effective drainage systems
Grate slot sizes should be kept to a minimum to protect heels, canes, bicycle tyres and wheelchairs, whilst allowing efficient surface water removal
All grates should have a document slip resistance rating
Grates and access covers should be durable, robust and load rated for vehicles and trolleys
Grates and access covers must be secure and provide easy access for maintenance and cleaning to ensure optimum performance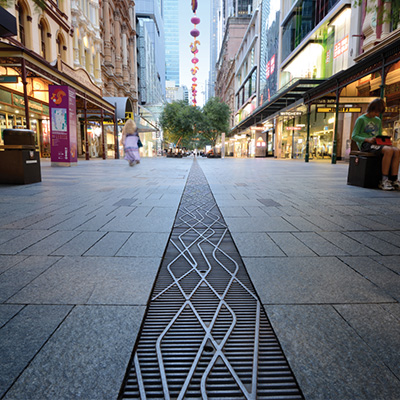 Freestyle grates at Pitt Street Mall
Architects designed a bespoke grate at Sydney's iconic Pitt Street Mall to harmonise with the surrounding urban elements and historical context of the area.
Read more about this here.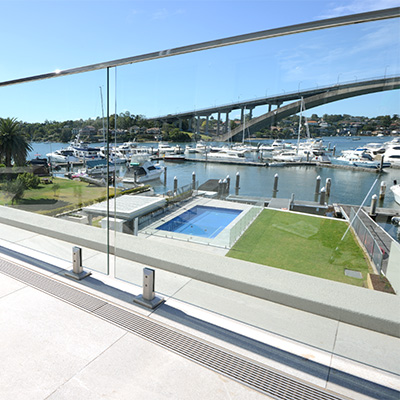 Penthouse stainless steel solutions
The designers of this boutique waterfront apartment block wanted a durable grate for the saltwater environment and a high level of slip resistance.
Read more about this here.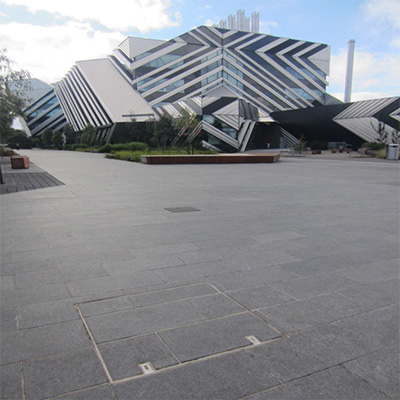 Discreet access covers
Access covers are an essential, but often overlooked, element of all applications. ACO has a number of options that can blend seamlessly with the surrounding pavements.
Read more about this here.