Heelsafe Anti-Slip® Design principals
ACO's Heelsafe Anti-Slip® grates and covers provide the ideal solution for flat pavements where slip resistance, durability and heel safety are required.
These pavement elements provide a balance between pedestrian safety and, in the case of grates, surface water collection.
ACO has identified five key principals that form ACO's philosophy on sustainable floors and pavements. Some are relevant to access covers, all are relevant to grates.
Read about these principals below to learn more or download our Whitepaper.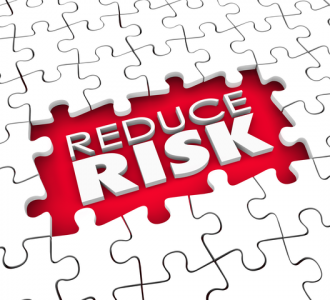 Pavements should be constructed as flat as possible for pedestrian safety and in conjunction with drainage systems that effectively capture and release stormwater.
Flat and level pavement design reduces risks to pedestrian safety and requires an efficient surface water management system to prevent hazards caused by ponding and standing water. Effective surface water management also prevents damage to buildings and preserves the life of the pavement. There are two main approaches to surface water drainage; grated pit and pipe drainage and linear drainage.
1. Grated pit and pipe drainage
Precise and exact grading is required to intercept surface water with the grated pit and pipe option. The pits are located at strategic areas on the pavement to collect the water which is removed from the site via a network of underground pipes.

Not aesthetically pleasing


Undulating pavement involves complex construction and requires costly and extensive earthworks for pipe network


May cause pedestrian safety hazards and property damage, for example runaway shopping trolleys


The longevity of the pavement will be compromised if the pavement settles, creating areas for standing water


Pipes may be easily blocked requiring frequent maintenance


Initial product costs are low, but are generally offset by the issues raised above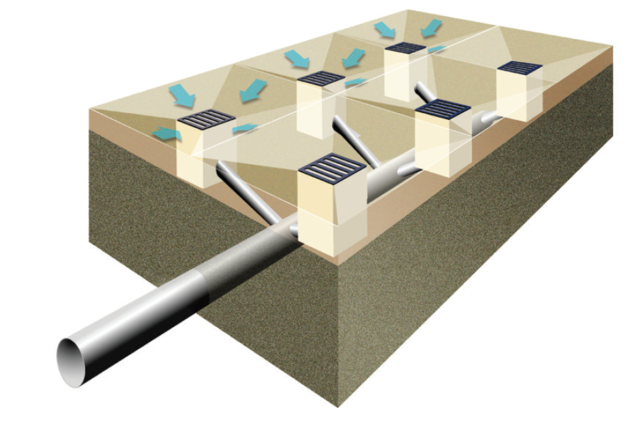 Grated pit & pipe drainage
2. Linear drainage
Simple one-way falls are required for linear drainage, enabling a continuous line of water capture which quickly and efficiently collects and transfers surface water off site.

Aesthetically pleasing


One way grading is simple and quick to construct, requiring minimal underground pipework


Linear drainage can be useful to prevent water transgressing into environmentally sensitive areas and across thresholds


Factory manufactured modular trench drains are produced with a consistent quality and comprise:


– built-in slopes ensuring efficient drainage to outlets


– advanced V-shape profiles minimising the build-up of silt


– precast polymer which is more durable than concrete


Cast-in-situ concrete trench drains require a complex construction process and may result in substandard quality.


There is a limited range of grate options available


Open swales cannot be walked on and may block with debris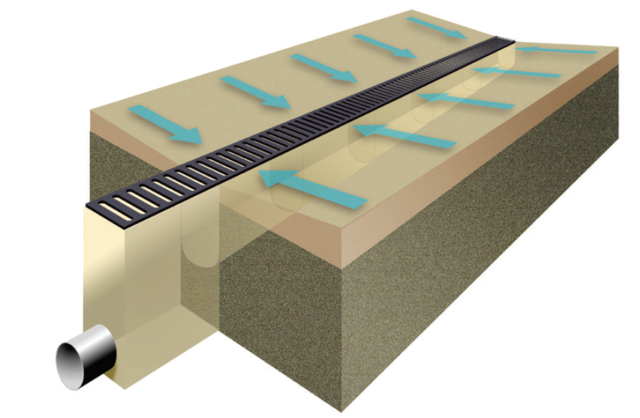 Modular drain price comparison
A report prepared by independent quantity surveyor, Rider Levett Bucknall compared the installation costs of precast modular grated trench drains with cast-in-situ grated pit and pipe systems. The results showed precast modular solutions were the cost effective option. To learn more about this report, click here.
The trade-off between small slots and proper drainage in urban areas
A grate fails hydraulically when water bypass occurs. Failure to deal with runoff can result in inconveniencing pedestrians, damaging buildings and their contents, disruption to transport systems, interruption to business operations and result in lawsuits associated with injuries to individuals.
A grate's inlet size has a significant effect on its hydraulic performance and must be considered in real environments, particularly when over time grate inlets clog up due to silt and debris. Inlet size however, must be kept to a minimum to stop heels, bicycle and wheelchair wheels; and walking canes from getting caught.
For areas where surface water volumes are low and specific protection is required for stiletto heels, ACO can supply grates, with slot sizes no greater than 8mm that comply with ASME A112.6.3. As small slots restrict surface water collection, ACO offers a free technical service where a grate's hydraulic intake capacity with blockage factors can be assessed against specific project requirements.
Compliance for wheelchair and walking cane safety
New building works must be designed to comply with the Disability Discrimination Act (DDA).  The DDA makes it against the law for public places to be inaccessible to people with a disability.
In public footpaths and walkways, grates are located in areas to intercept, collect and remove runoff to reduce the hazards from surface water causing injuries from slips, trips and falls.  Depending on the inlet slot widths and slot orientation, grates can become a hazard for people who use wheelchairs and for people with ambulatory or sensory disability, i.e. trapping wheels/canes in the grate slots.
AS 1428.1:2021 includes, Section 4 Floor or ground surfaces on continuous accessible paths of travel and circulation spaces, with Clause 4.4 Grates which states the following:
"Grates in paths of travel shall be in accordance with the following:
(a)  Circular openings shall be not greater than 13mm in diameter.
(b)  Slotted openings shall be not greater than 13mm wide and not greater than 150mm long and be oriented so that the long dimension is transverse to the dominant direction of travel.
(c)  Linear openings shall be oriented so that the longer dimension is transverse to the dominant direction of travel, except where linear openings are less than 8mm wide.  Where linear openings are less than 8mm wide, orientation is optional."

If the grates meet AS 1428.1, they are deemed to comply with DDA requirements.
To learn more about wheelchair and walking cane compliance, visit ACO's education pages.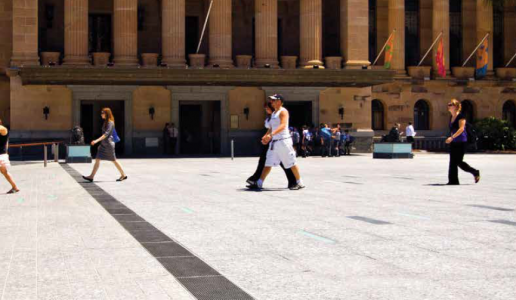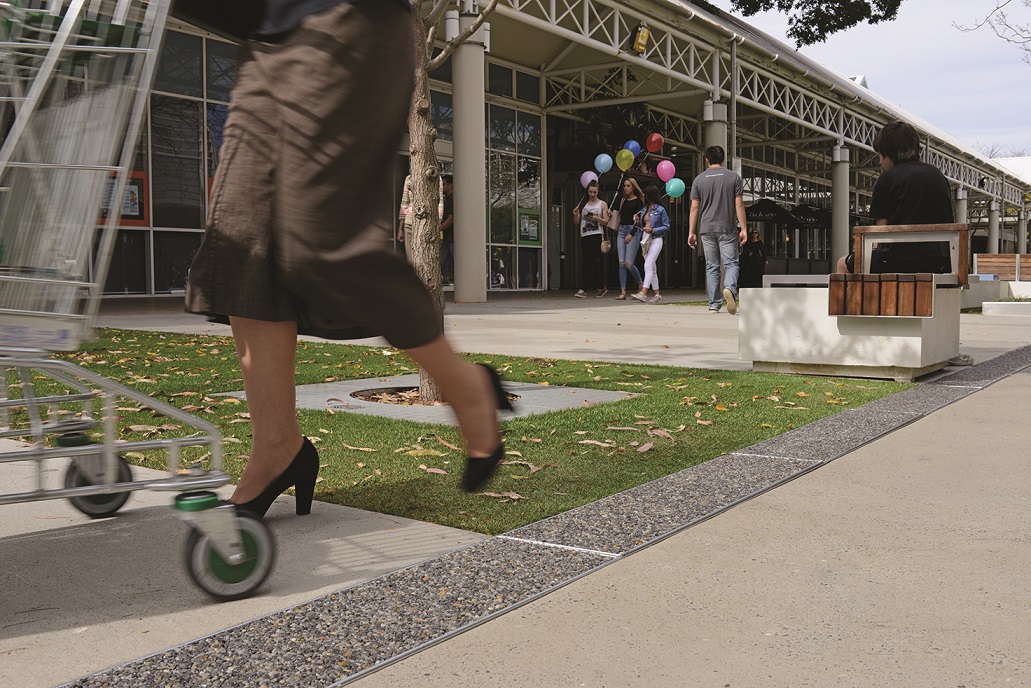 With the increase in litigation for injuries caused by slips, trips and falls, designers need to specify grates and access covers that comply with the standard for slip resistance.
Three tests are specified in AS 4586 to rate the slip resistance of a grate or access covers:
Wet pendulum test is applied in urban pedestrian areas
Wet-barefoot inclining platform test is applied to wet areas where footwear is not worn, for example pools, waterparks and beaches
Oil-wet inclining platform test is applied to commercial and industrial areas that may be contaminated with oil or grease, for example commercial kitchens and food processing factories
A higher slip resistance rating does not necessarily provide a better solution.
It is advisable that designers specify materials with a slip resistance rating suitable for the application.
A trip hazard may occur when a grate or access cover has a higher slip resistance rating than the surrounding floor surface.
The Standards Australia Handbook SA HB 198: Guide to the Specification and Testing of Slip Resistance of Pedestrian Surfaces, provides the following information:
Slip resistance classification of new pedestrian surface materials compliant to AS 4586
Commentary on the National Construction Code (NCC) that references AS 4586 for particular applications
General guidance for specifying pedestrian safe materials
ACO Heelsafe® Anti-Slip grates have been tested for slip resistance in accordance with AS 4586. Grates are available in a wide range of slip resistance ratings, ensuring there is an ACO grate suitable for any external application.
To learn more about slip resistance, visit ACO's education pages.
To ensure long life, products must be carefully selected and installed correctly. An investigation of the application's location is recommended to identify whether a corrosive environment (e.g. coastal areas, swimming pools) and/or or whether chemicals will be used for cleaning. This affects material choices. Grates and access covers are available in a variety of durable materials including cast iron, composites, stainless and galvanised steel.
Grates, access covers and their underlying enclosures must also be designed to withstand trucks, cars and trolleys. Loading refers to any foot or vehicular traffic and are a tool to enable comparison of products by providing an independent measurement scale.
AS 3996 specifies the requirements for access covers and grates for use in vehicular and pedestrian areas. The table opposite shows the recommended individual wheel load for each load class.
Consider the following factors when specifying drainage for urban hardscape areas. Important factors include:
Material selection
Weight, type and size of wheels
Traffic patterns-traffic speed, frequency, braking, turning, etc.
Edge protection
Chemical resistance
Installation
As part of ACO's continuous product development and commitment to quality, ACO has NATA certified testing equipment (license number 15193), operated by fully trained and certified technicians. ACO grates are load rated to AS 3996 to ensure they withstand the intended traffic for the application. ACO can supply NATA load test reports to AS 3996 and a Certificate of Compliance.
To learn more about factors affecting loading for grates, visit ACO's education pages.
To learn more about factors affecting loading for covers, visit ACO's education pages.
Grates: access for maintenance
All removable grates should be secured to prevent movement by traffic, which can cause damage to the trench and/or grate. Once the channel is damaged the drain can become unsafe for pedestrians, noisy and expensive to rectify and aesthetics can be adversely impacted.
There are a number of locking options available, including:
Boltless locking mechanism (most urban hardscape applications)
Bolt locking
Security bolts (sensitive areas)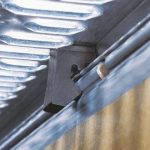 When considering lockability, the grate should be easily accessible for maintenance. ACO's Drainlok system is barless and boltless which facilitates quick access for maintenance.
Slot drains and permeable drains are held down by the weight of their infill materials/pavers and generally do not require a fastening system unless installed in sensitive areas (e.g. correctional facilities) or fast moving traffic (e.g. roads).
Slotted tops require discreet access points that help the designer preserve the visual continuity of the pavement. To learn more, click here.
Access covers: access for maintenance
In some applications, locking access covers are critical for safety and security.
Bolts can fasten covers into the frame to prevent unauthorized access or if back pressure (due to surcharge) is anticipated from the heat of sewer gases
An access cover's lifting direction is also important – iron covers are only designed to move in one direction. During design and layout planning, ensure obstacles do not impede the removal of the cover. This image shows an incorrectly positioned cover that cannot be opened as the wall is in the way.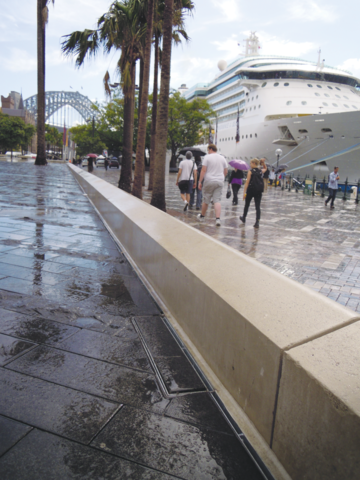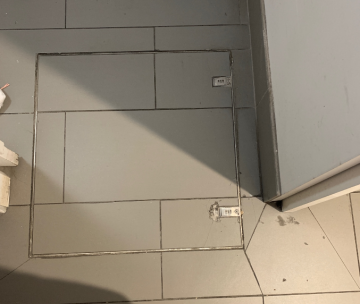 CPD training
In today's ever-changing construction industry, it has never been more important to ensure you are up to date with current industry regulations, practices, trends and innovations.
With a series of free Continuing Professional Development (CPD) and industry specific courses, we provide essential learning and knowledge to construction professionals, ensuring you can undertake professional development when and where you need it.
Continuous professional development is a commitment required by chartered bodies to develop your career and encourage lifelong learning. Some courses have been accredited by professional associations such as Engineers Australia (EA), Australian Institute of Landscape Architects (AILA) and Architectural Information Services (AIS).